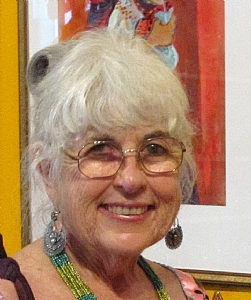 "As a seeker and a dreamer, the art muse has always been a close friend of mine. Art has been my passion since childhood. Following my heart, it became my career, as an artist and a professor of art. My work is fueled by indefatigable curiosity, spirituality, meditation and travel. It is distinguishable by an emotional approach to color and design. I am interested in art as a universal language, and telling stories with symbols and shapes. It is a pleasure to interact and share my art with others who are also willing captives of the art muse."

Terry Gay Puckett
Born in Amarillo, Texas, Terry Gay has lived in San Antonio since 1962. She is honored to have been chosen as Artist of the Year 2009 at the San Antonio Art League and Museum, and was the 63rd artist to be selected. In December 2009 her work was in Glass on Metal Magazine, and a piece of her enameling work is in the collection of the Thompson Enamel Inc.in Bellevue, Kentucky as of January 2010. Her work was included in the fall of 2010 and 2011 in "Reflections," a magazine published by the Episcopal Diocese of West Texas. She was a featured artist in "Behold: Arts for the Church Year Magazine" in 2011. Twenty five pieces of her work were chosen for the January 2013 opening of the new Robert B. Green UHS Clinical Pavillion in San Antonio, Texas. In March of 2013 she will be exhibiting with the GaGa Group in "Flora & Fauna, The Excuisite Quilt," and the Highwire Gallery, in San Antonio, Texas.

She has won awards for painting, mixed media, collage and vitreous enamels on metal. Her enamel work has been exhibited in France, Argentina, Honduras and Spain, and in many venues in the United States. Her liturgical processional enamel pieces can be seen at St. Luke's Episcopal Church in San Antonio, Texas. Two of her paintings are included in the Amarillo High School art collection. Her work is in the San Antonio Art League and Museum permanent collection, and has been purchased by Texas A & M and Prairie View College. A painting of the McNay Patio is in the docent's collection at the McNay Museum of Art.

Puckett has taught workshops in Guatemala, Mexico, Ecuador, and HEB Foundation's Creativity Week at Laity Lodge in Leaky, Texas. Her teaching career began at the Southwest School for Art and Crafts. In the late 1970's she became an instructor for St. Philip's College, co-founded the visual arts program, and retired in 1999 as a professor emeritus from the art department. She continued to teach as an adjunct distance learning professor until 2009.

Scholastic credentials include an M.A. from The University of Texas at San Antonio, an M.A. from West Texas A&M in Canyon, Texas and a B.F.A. from the University of Texas in Austin. She also attended Mount Vernon College, now part of George Washington University in Washington D.C., St. Mary's University, and the University of Colorado at Boulder.

Memberships include The Texas Watercolor Society (Purple Sage Brush,) The International Enamelist Society, The Society of Layerists in Multimedia, The Fiber Artists of San Antonio and The San Antonio Art League and Museum.
Complete curriculum vitae by request, terry@terrygaypuckett.com
.